DOST-PCHRD puts health technologies in the spotlight; National S&T Week returns face-to-face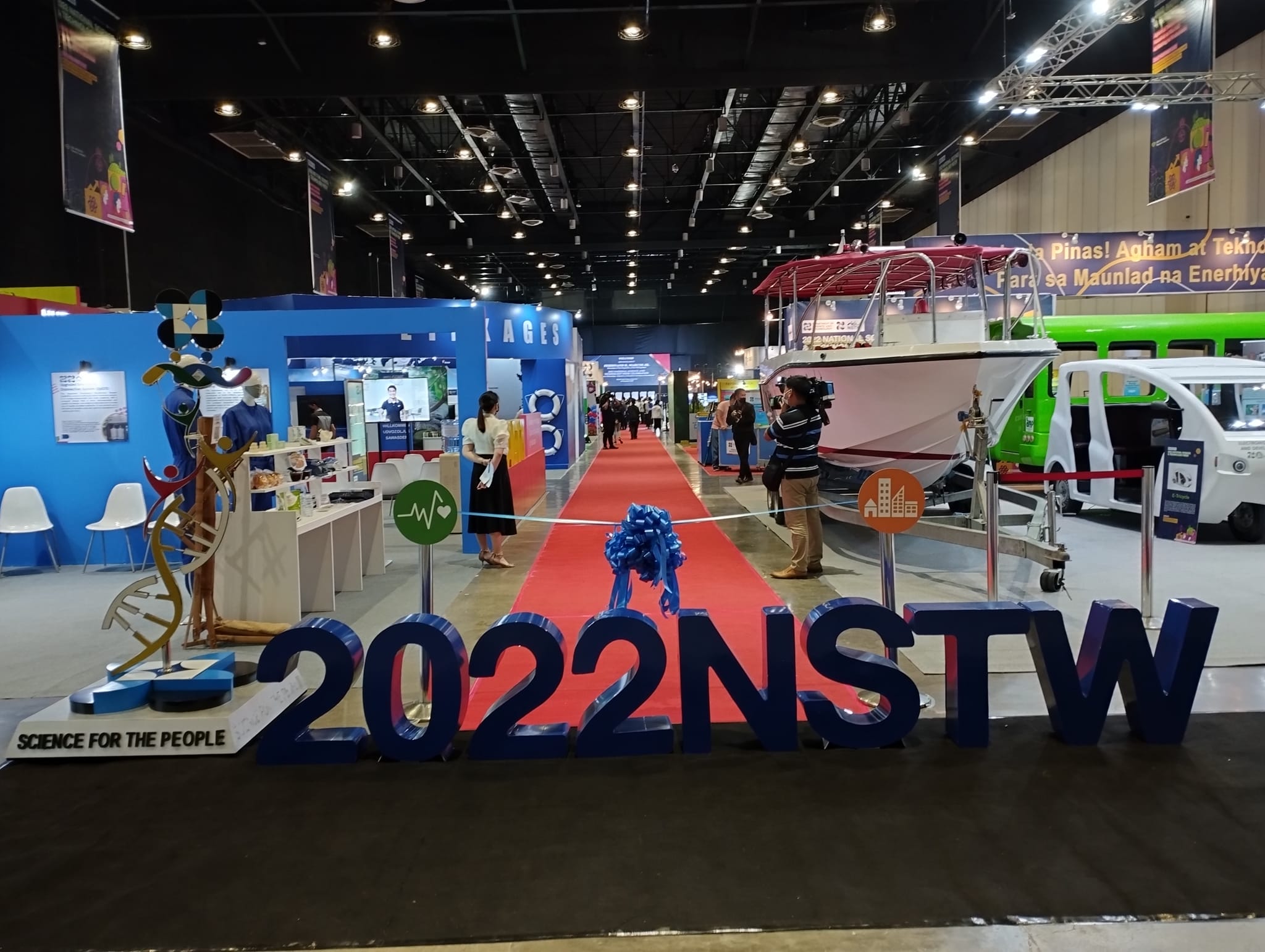 Led by the Department of Science and Technology- Philippine Council for Health Research and Development (DOST-PCHRD), latest health-related and health technologies were showcased during the 2022 National Science and Technology Week (NSTW) at the World Trade Center, Pasay City last 23-27 November 2022.
After two years since the pandemic, the NSTW returned face-to-face with the theme "Agham at Teknolohiya: Kabalikat sa Maunlad at Matatag na Kinabukasan" which aimed to highlight science as a tool towards recovery and building resilient communities for future Filipino  generations. Similar to pre-pandemic celebrations, this year featured various sessions and activities, as well as S&T cluster exhibits where attendees were able to see S&T innovations and interact with researchers in person. 
Formally opening the 2022 NSTW was President Ferdinand "Bongbong" Marcos, Jr. who served as the Opening Ceremonies keynote speaker. In his speech, the President expressed his support for the efforts of DOST and its partners to continue addressing the needs of Filipinos through S&T.
To highlight developments in health S&T, the DOST-PCHRD led the Health Cluster exhibits which carried the theme "Pananaliksik Pangkalusugan: Tugon sa Pangangailangan ng Kinabukasan." It featured various health and health-related technologies supported by the Council, as well as the following participating cluster agencies: DOST-Food and Nutrition Research Institute (DOST-FNRI), DOST-Philippine Nuclear Research Institute (DOST-PNRI), DOST- Forest Products Research and Development Institute (DOST-FPRDI), DOST- Industrial Technology Development Institute (DOST-ITDI), DOST- Philippine Textile Research Institute (DOST-PTRI), and the National Academy of Science and Technology (NAST). Over 2700 attendees visited the Health Cluster exhibits. 
Under the NSTW, the DOST-PCHRD also held the Talakayang HeaRT Beat press conference last 25 November 2022 at the Luna Function Hall, World Trade Center. The face-to-face press conference featured the Council's supported projects under the Biomedical Devices Engineering for Health program. Researchers from the UP Surgical Innovations and Biotechnology Laboratory (UP SIBOL) Program, Dr. Edward Wang, Dr. Samuel M. Grozman, Dr. Catherine Co, joined DOST-PCHRD Executive Director Dr. Jaime Montoya in the panel to answer questions from the audience regarding the latest developments of the projects under UP SIBOL.
The session was attended by 50 physical attendees, while the Facebook stream in partnership with Pilipino Star Ngayon gained over 27,000 views. 
Continuing the NSTW tradition, the Council conducted the 7th Hataw Agham on 26 November 2022 at the Hall A, World Trade Center, with the theme "Dance your Stress Away." The activity featured a lecture on low-impact exercises and dance as a form of physical and mental fitness activity for college students and working-age adults, followed by a  Zumba and dance routine sessions. Attended by more than 190 participants, DOST Secretary Dr. Renato U. Solidum Jr. and DOST- PCHRD Executive Director Dr. Jaime C. Montoya led the activity.