Ateneo's health data software to integrate Philhealth claims in 2014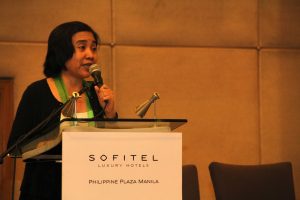 This 2014, Ateneo researchers will integrate the PhilHealth's outpatient benefit package and claims system on "eHaTID", a software application in an android tablet that offers real-time access to health information among local government units (LGUs) and medical doctors.
First introduced by Dr. Regina E. Estuar, Director of Ateneo Java Wireless and Competency Center during the eHealth summit 2014, this innovation will improve the efficiency and transparency on health information using a software application. The eHaTID of LGUs, also known as "eHealth TABLET for Informed Decision-making of Local Government Units," is an offshoot project of the Ateneo de Manila University's "eHealth TABLET", led by Dr. Dennis Batangan.
The first version of eHaTID featured only an Electronic Medical Record (EMR) system that provided summaries of medical data through graphs and charts.
With the improved version of eHaTID, the doctors and mayor of a particular municipality can access not only the current health status of their constituents but also PhilHealth records of benefits and claims.
Researchers set to deploy android tablets with eHaTID to 200 municipalities, specifically to local health units.
Though issues like instability of internet connection were raised in some pre-tested municipalities, Dr. Estuar emphasized that there was high adoption of eHaTID among LGUs, based on the data of its usage in ten pre-tested areas.
The project is continuously funded by the Philippine Council for Health Research and Development of the Department of Science and Technology.