PCHRD, MH Advisory Group explore spiritual dimension of mental health in a series of RTDs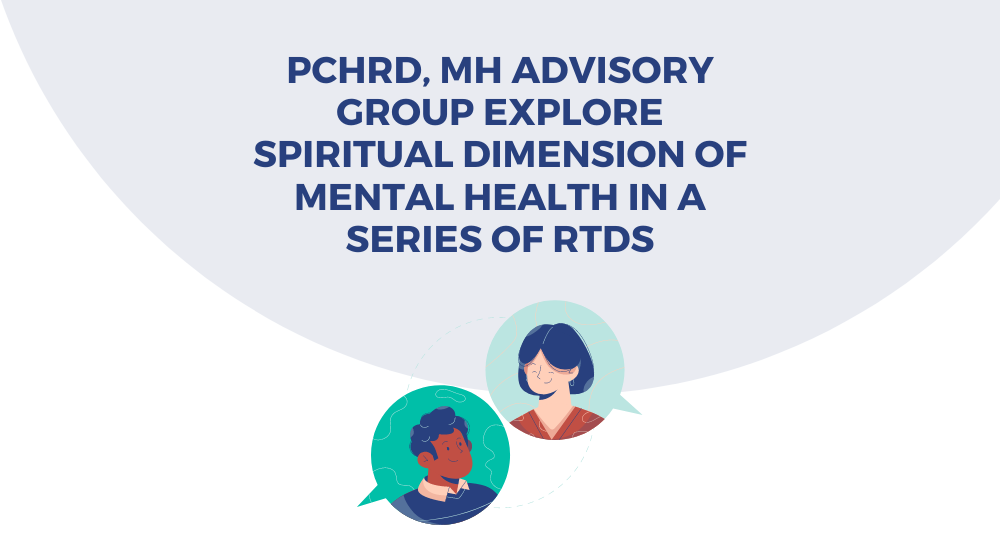 "There is a facet of mental health that is not brought into the spotlight yet."
This is one of the realizations mentioned by Mr. Paul Ernest de Leon, R&D Division Chief of the Philippine Council for Health Research and Development (PCHRD), when the National Mental Health Research Agenda was finalized in 2019.
Extensive discussions of the "non-material" or "spiritual" dimension of health have been included in the 1983 World Health Assembly, according to the PCHRD Mental Health Research Advisory Group (MHRAG) Chair Dr. Lourdes Ladrido-Ignacio. An additional dimension has been proposed for some time now as an addition to the Biopsychosocial model of Health by George Engel, Dr. Ignacio added.
"The Philippines, despite being a very religious country, is only beginning to look at this fourth dimension through the lenses of the sciences, with the PCHRD endorsing initiatives around this area," says PCHRD Executive Director Dr. Jaime C. Montoya.
To identify what aspects of religiosity and spirituality would be particularly relevant to mental health research in the Philippines, the PCHRD, in collaboration with the MHRAG, held a series of virtual roundtable discussions (RTDs) on religion, spirituality, and health on 12 January 2022 and 30 March 2022 via Zoom.
The first RTD was participated by eight individuals from different faiths involved in pastoral care who were chosen for their openness to the sciences and inter-faith exchange. On the other hand, the second roundtable discussion was attended by professionals from various fields: medicine, nursing, psychology, anthropology, linguistics and geography, education, and social work.
Aiming to incorporate Spirituality and Mental Health in the National Mental Health Research Agenda, in line with the Biopsychosocial-spiritual Framework, results and discussions from the first and second RTDs will be compiled and synthesized, to be presented in a third and final discussion where participants from the previous RTDs, policymakers, and the public will pick out issues that can be topics for further research. 
"Although the RTDs are closed sessions, a final report will be presented in a public forum that can be used to generate more ideas, as well as immediate application, especially from institutions with their own resources." Mr. de Leon stated during the organization of the RTDs.
"We believe that through discussions like this, we can expand and further investigate the current research interests, gaps, or challenges in connection with the spiritual dimension of this discipline," Dr. Montoya added.