Here's how you can use the Lagundi syrup or tablet if you're diagnosed with mild COVID-19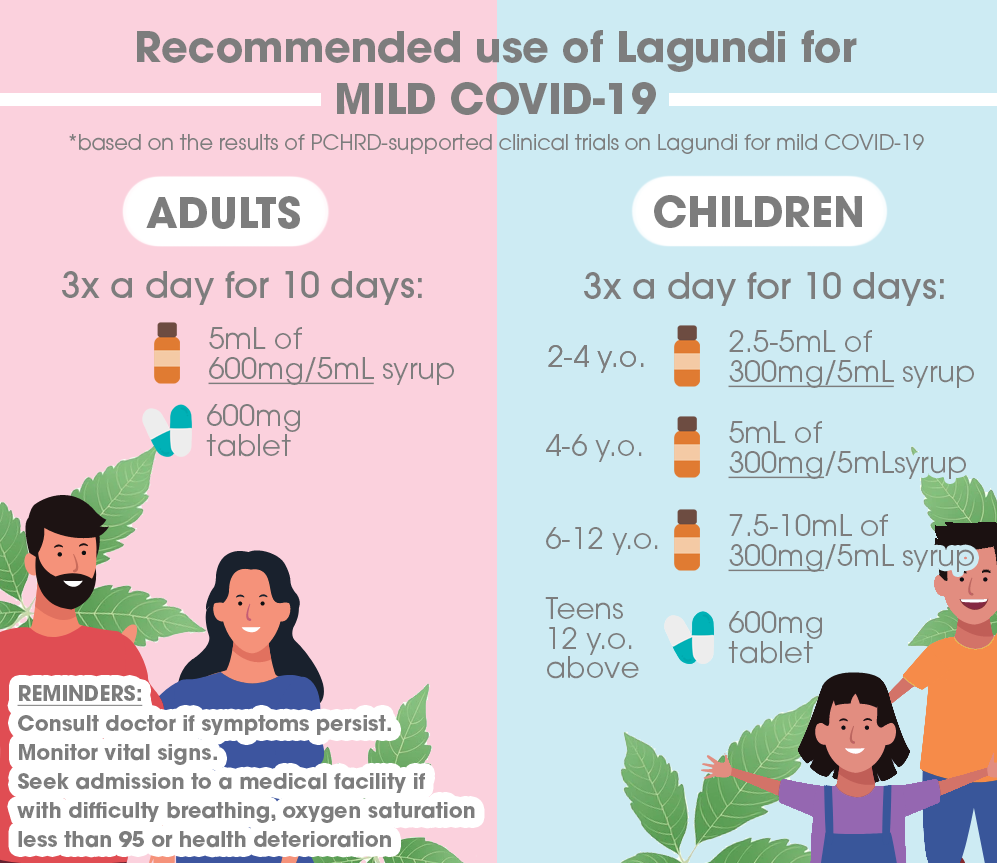 "Following the prescribed dosages is vital to ensure that the treatment using Lagundi will render positive results," the project leader of the Lagundi clinical trials, Dr. Cecilia Maramba-Lazarte, reminds the public.
Results of the Lagundi clinical trial conducted by the University of the Philippines – Manila (UPM) with support from the Department of Science and Technology – Philippine Council for Health Research and Development (DOST-PCHRD) show that mild COVID-19 patients may take specific dosages of the Lagundi tablet or syrup three times a day for ten days to improve their symptoms.
Adult patients may take the 600mg tablet or 5mL of the 600mg syrup thrice daily. Meanwhile, the dosage requirement for pediatric patients would vary depending on their age range. The 300mg syrup may be taken thrice daily by children, following the suggested dosage per intake: 2.5 to 5mL for ages 2 to 4, 5mL for ages 4 to 6, and 7.5 to 10mL for ages 6 to 12. Teens aged 12 and older may also take the 600 mg tablet thrice a day. Following these guidelines, the use of the medicine may alleviate mild COVID-19 symptoms, especially the loss of sense of smell for patients.
While both the Lagundi syrup and tablet are considered to be over-the-counter medicines, patients are still advised to take precautions in using the products and avoid over-dosage. During treatment, the research team also recommends that patients continue to consult with healthcare professionals, isolate, and monitor vital signs.
"Our team conducted this study because we want to help our patients in battling COVID-19," Dr. Maramba-Lazarte says. "We hope that everyone who will use the Lagundi syrup and tablet will adhere to these evidence-based guidelines for best results," she adds.
"The Council has always been committed to supporting R&D initiatives that will help alleviate the healthcare burdens of the Filipino, which are not limited to COVID-19," DOST-PCHRD Executive Director Dr. Jaime C. Montoya says. "Part of this mission is to make sure that every initiative, such as this Lagundi clinical trial, will benefit and serve the needs of the Filipino," he adds.
Formulated under the National Integrated Research Program on Medicinal Plants (NIRPROMP), the FDA-approved Lagundi product has long been used for cough and asthma relief. Lagundi is also included in the homecare kit for mild COVID-19 patients of the Philippine Health Insurance Corporation (PhilHealth).
According to the latest case bulletin of the Department of Health (DOH), the majority of the confirmed COVID-19 cases are mild or asymptomatic. Home care and quarantine are currently allowed for mild and asymptomatic cases.