Health research among priorities of government leaders— House Speaker Romualdez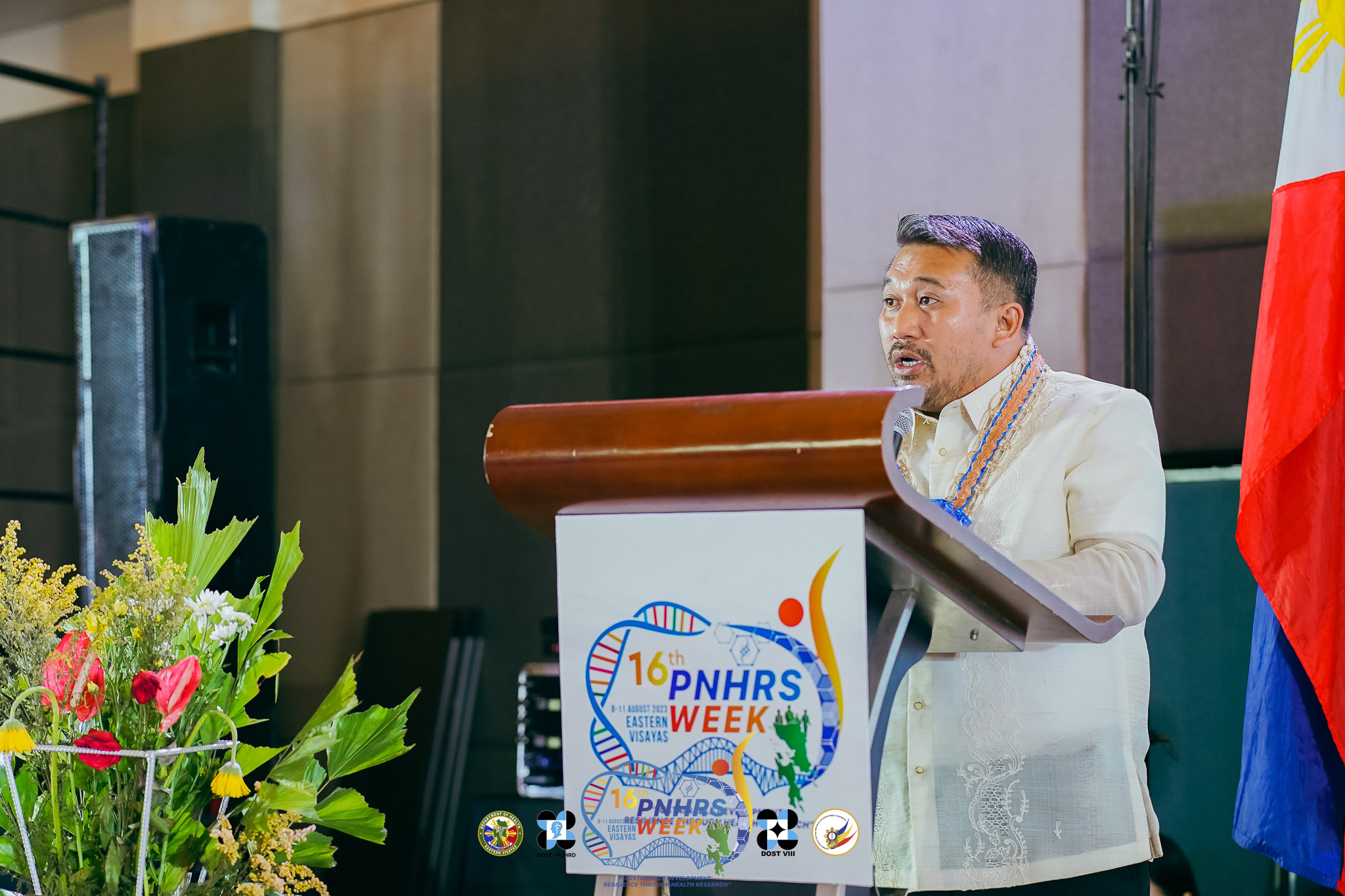 "Health and health research remain among the foremost concerns of government leaders," said House Speaker Ferdinand Martin G. Romualdez in his keynote speech delivered by Atty. Mark Stephen Reyes during the 16th Philippines National Health Research System (PNHRS) Week Opening Ceremonies last 10 August 2023, at the Summit Hotel, Tacloban City. 
Aligned with the theme of the 16th PNHRS Week, "Sustainable Development: Resilience through Health Resilience," Speaker Romualdez extended the support of the House of Representatives towards building resilient health systems and inclusive healthcare. In his address, the Speaker underscored the vital role of research in the recovery from the pandemic, and shared some legislations pursued in the House that contribute to better health for Filipinos. 
Speaker Romualdez cited House Bill 6522 or the Philippine Centers for Disease Prevention and Control (CDC) Act, which supports the establishment of the Philippine CDC, an institution dedicated to strengthening the country's capacities in disease control, prevention, and response. According to the Speaker, the bill has been approved by the House on its third and final reading. 
The bill assigns the Philippine CDC as the "technical authority forecasting, analysis, strategy, formulation, and standards development for the prevention and control of all diseases" to help manage public health emergencies such as the COVID-19 pandemic. 
He also highlighted the support of the current administration for healthcare, with approximately  150 billion pesos allotted to improve health systems and health care in its 2024 proposed expenditure program. Other legislations mentioned by Speaker Romualdez are bills strengthening basic research including research on health, institutionalizing a research and development Council that monitors proposals for government funding, and creating health facilities across regions in the country. 
Further, the Speaker recognized the efforts of the PNHRS in forwarding health research and encouraged the System to take on more opportunities, "By all means, please do continue in your noble endeavor of promoting health research that is attuned and responds to the needs of our health system," he said through Atty. Reyes.  
Tacloban City Mayor Alfred S. Romualdez, who delivered his message through Tacloban City Councilor Dr. Maria Elvira G. Casal, also expressed support for health research and the PNHRS. "It is through collaborative efforts like the Philippine National Health Research System that we can transform knowledge to action, bridging the gap between research and impact," he said.
This year's PNHRS Week was hosted by the Eastern Visayas Health Research and Development Consortium (EVHRDC). The four-day celebration featured plenary sessions, capacity building activities, and competitions which gathered Filipino heath researchers across the regions. Also a highlight of the event was the launching of the updated National Unified Health Research Agenda 2023-2028. 
To watch a virtual replay of the main conference sessions, visit the Department of Science and Technology- Philippine Council for Health Research and Development (DOST-PCHRD) Facebook page at facebook.com/dostpchrd.