You are here: Download the PCHRD 2021 Annual Report | Philippine Council for Health Research and Development
Download the PCHRD 2021 Annual Report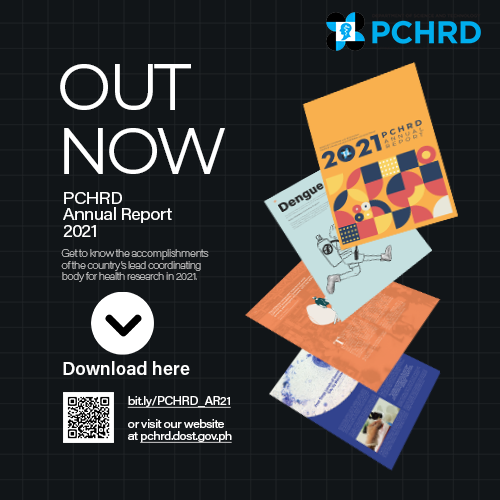 The DOST-PCHRD Annual Report 2021 is OUT NOW!
Get to know the Council's achievements, activities, and supported projects in year 2021. Download our annual report now through

bit.ly/PCHRD_AR21
.
Latest Announcements
Ongoing Projects
Predictive Value of 24-Hour Bilirubin in Developing Hyperbilirubinemia among Term Infants in a Multi-Center Study in the Philippines
Cataloging Possible Philippine Strains of Zika and African Swine Fever Viruses and Coconut Cadang-Cadang Viroid through Genome Sequencing
Assessment of Diagnostic Algorithms and Tools for Multidrug Resistant and Drug Sensitive Tuberculosis in the Philippines Part II (TB-FIT 2)
Long Term outcomes of Diagnosed Tuberculosis Cases in the Philippines
View all Ongoing Projects
Follow Us on Facebook
REPUBLIC OF THE PHILIPPINES
All content is in the public domain unless otherwise stated.
FREEDOM OF INFORMATION
ABOUT GOVPH
Learn more about the Philippine government, its structure,
how government works and the people behind it.