DOST-PCHRD-supported SeeYouDoc is one of top 101 Southeast Asia Web Apps Companies and Startups — Best Startup.Asia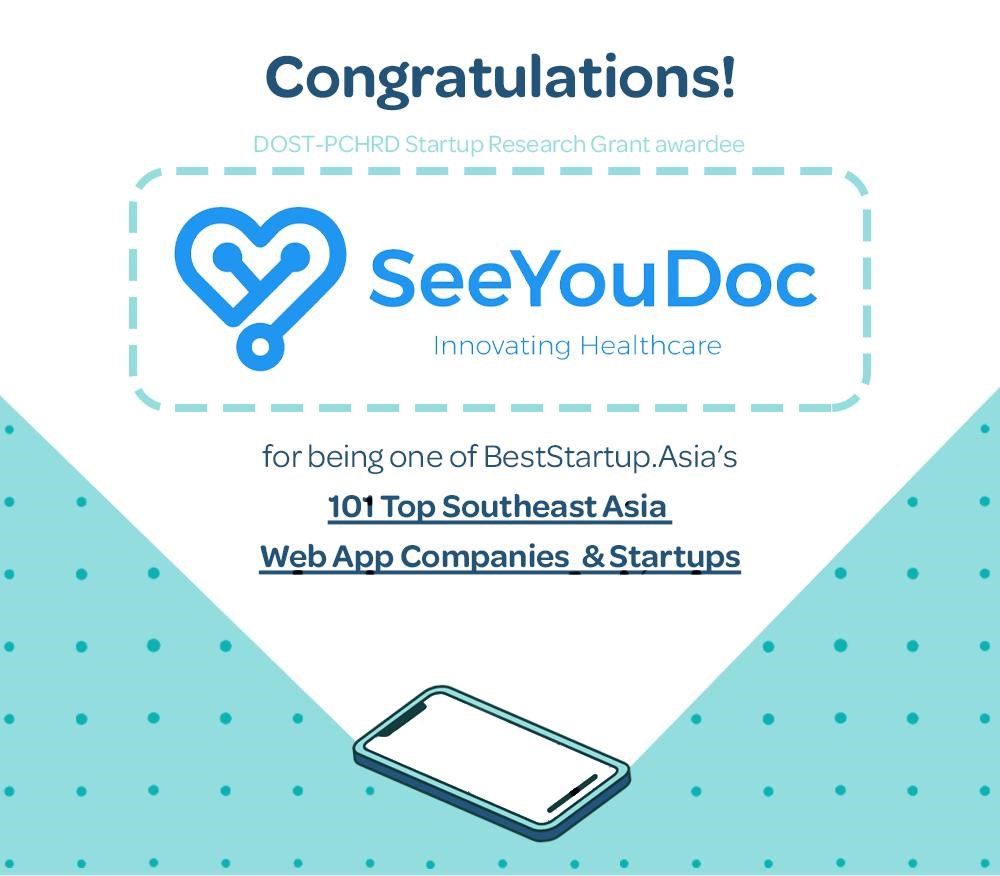 SeeYouDoc is named as one of the top 101 web application companies and startups in Southeast Asia by Best Startup.Asia in terms of performance in innovation, growth, management strategies, and societal impact. 
An integrated healthcare platform, SeeYouDoc enables patients and doctors to schedule appointments and consultations via a secure and trusted system. The online platform includes several features such as e-prescriptions, medical notes, digital payment, and practice management. Aside from scheduling and attending consultation meetings online, patients may also keep track of their medical diagnosis and prescriptions within the platform. 
"Our goal is to increase the adoption of Telemedicine services from medical institutions through the integration of online communications, systems, and interactive data in order for them to provide a better healthcare service to their patients," SeeYouDoc Founder and CEO Mr. Noel Castillo said. "We believe that by integrating telemedicine within the operations of healthcare institutions, Filipinos can access affordable healthcare services anywhere. This is also connected with the goals of the Universal Healthcare Act wherein Telemedicine can be used as a system for Primary care services," he added.
The startup company is among the first grantees of the Startup Research Grant (SGP) Program of the Department of Science and Technology – Philippine Council for Health Research and Development (DOST-PCHRD). Under the grant, SeeYouDoc aims to develop an enhanced interactive analytics platform that will enable medical facilities to measure their performance, guide their operations and policies, and monitor different metrics. Such development is envisioned to improve and expand the platform's telemedicine services.
The project team has already identified key performance indicators and metrics that will be included in the analytics platform from its conducted end-user interviews. The design and other features to be added were also generated. 
"In line with the Innovative Startup Act of 2019, we launched the SGP to support Filipino-owned startups such as the SeeYouDoc to create an enabling ecosystem for startups in the country," DOST-PCHRD Executive Director Dr. Jaime C. Montoya said. "We are proud to see the achievements of the project team since we started working with them last year and we are thankful for their dedication to bringing healthcare solutions closer and more accessible for our communities," he added.
The SGP provides support to startups to conduct research activities that will help them overcome R&D roadblocks, strengthen intellectual property (IP), establish initial market traction, refine business models, and scale-up production. 
The SeeYouDoc platform is accessible both on the web and mobile.