DLSU-IBEHT's NeuroTech Center explores neuroscience, robotics, and artificial intelligence for patient rehabilitation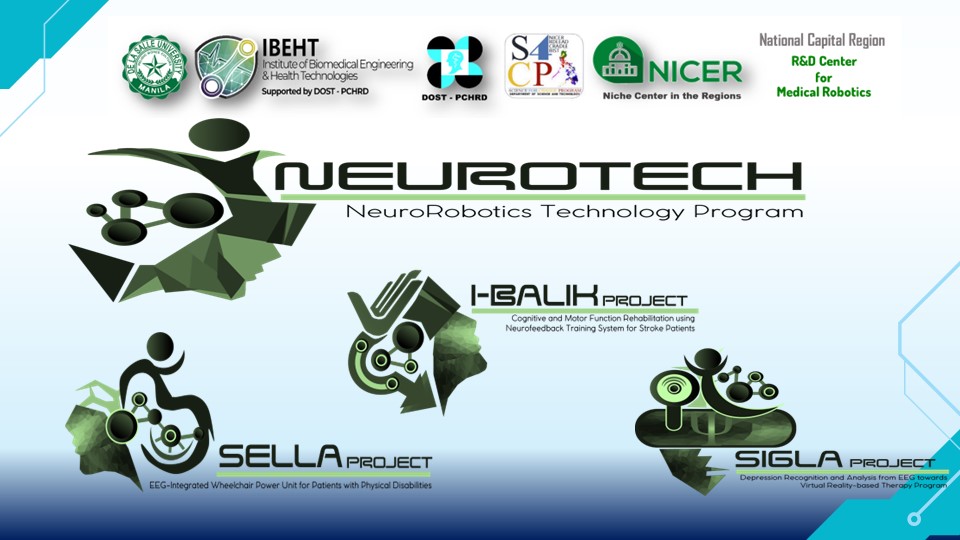 The NeuroTech: Neurorobotics Technology Center of the De La Salle University – Institute of Biomedical Engineering and Health Technologies (DLSU-IBEHT) explores the utilization of neuroscience, robotics, and artificial intelligence (AI) for the rehabilitation of Filipino patients. 
In line with the theme: "Transforming Healthcare through Digitalization," the NeuroTech Center was presented by Dr. Roy Francis Navea in the online session: "The Role of the Private Partners in Reinforcing Digitalization in Healthcare" during the 41st anniversary celebration of the Department of Science and Technology – Philippine Council for Health Research and Development (DOST-PCHRD) last 17 March 2023 via Zoom.
Established in 2022, the Center aims to strengthen research and development efforts on neurorobotics technology in the country by collaborating with research universities and institutions and by conducting multidisciplinary research and capacity building activities. Currently, the Center leads three component projects: the SELLA project, the iBALIK project, and the SIGLA project led by Dr. Nilo Bugtai, Dr. Myrna Estrada, and Dr. Navea, respectively. 
The SELLA project focuses on developing an electroencephalogram or EEG-controlled wheelchair system that will enable patients to easily maneuver the wheelchair wirelessly. In his presentation during PCHRD's anniversary, Dr. Navea explained that the technology "will help immobilized persons to be mobilized once again through and by just using the brain to move  the specialized wheelchair forward, backward, and sideways."
On the other hand, the iBALIK project aims to develop a neurofeedback training system for the rehabilitation of cognitive and motor function for stroke patients. Specifically, the project is a virtual reality-based solution, where virtual environments and activities will be utilized for rehabilitation. "This project will provide assistance to therapists in doing their sessions and will help them understand more about their patients," said Dr. Navea.
Lastly, the SIGLA project pursues the development of a virtual reality-based therapy program for the recognition and analysis of depression. "The project came from the concept of ibalik ang sigla for people with depression," said Dr. Navea. "In this project, we will be designing a culturally adapted virtual reality environment, conducive for managing depression in collaboration with experts in the field of clinical psychology and psychiatry," he added.
Citing these projects as examples, Dr. Navea emphasized the potential of leveraging digitalization to advance healthcare in the Philippines. "New technologies build new careers, new job opportunities, new knowledge, new skills, and new competencies," he said. "With the advent of metaverse, virtual and augmented realities, we don't want to miss this opportunity to accelerate and utilize these technologies for advancing our healthcare systems in the Philippines," he added.
Supported by the DOST under its Niche Centers in the Regions for R&D (NICER) program, the NeuroTech Center currently has a total funding allocation of ₱ 62,747,108.16 and is monitored by the PCHRD.