Biotek M:Dengue Detection Kit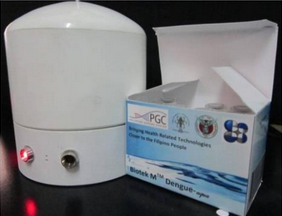 Technology Generator
University of the Philippines-Diliman
Project Lead: Dr. Raul V. Destura
Co-inventors: Joy Ann G. Petronio,
Carmencita C. Padilla,
Romel Gomez,
Ricky B.Vinarao,
Kristine Marie G. Flores,
Jesus Emmanuel A.D. Sevilleja,
Sharie Keanne Ganchua
The Problem
Dengue is dangerous when not treated early. Based on data from the Department of Health, 131,827 cases of dengue were recorded nationwide in 2017, with most cases affecting children from 5-9 years old. There were 732 deaths recorded on the same year. The standard test for dengue, Polymerase Chain Reaction (PCR) test, costs from P7,000-8,000, a cost too high to bear by the marginalized sector who are the most commonly affected by dengue infection. It also takes at least 24 hours to know the results.
The Solution
Biotek M is a diagnostic kit which acts as a confirmatory test for diagnosis of dengue infection in the first 0-5 days of illness, and results would be known in an hour or less. Designed to be used in hospitals or clinics with minimal laboratory facilities, using Biotek M would mean less admissions for dengue-suspected cases, therefore saving resources for both hospital and patients. This test is as efficient but is less costly than the currently available PCR technology used in dengue detection.
Product Development Stage
The product is already being sold by a spin-off company called Manila Health Tek Inc.
Contact Person
Dr. Raul Destura
Manila HealthTek Inc.
109 Bgy. Sta. Elena, Mayor Gil Fernando Ave., Marikina City
Tel No: +639178057331, +639178042079, (02)9505026, (02)3589723
tak2us@manila-healthtek.com